TANTE AVVENTURE IN COMPAGNIA DELL'ORSO BEC
al Rifugio Bec de Roces
Walk up or take the Campolongo chairlift to the Bec de Roces refuge where the Bec bear awaits you.
Near the hut you will find two paths suitable for the whole family to discover many curiosities about the life of our little bear and to immerse yourself in his adventurous life.
The sensory trail in front of the hut is suitable for the whole family, while the longer trail – which lasts about 45 minutes and starts at the chairlift arrival point – is only suitable if accompanied by an adult.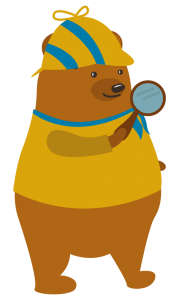 BEARLOCK HOLMES LOOKING FOR THE BEC BEAR
A little bear has been hiding among the rocks near the Bec de Roces Refuge.
Bec – that's his name – is a docile and friendly fellow, but he hasn't been seen around the Refuge for several months now!
WOULD YOU LIKE TO GO AND LOOK FOR IT?
Pick up the card with the map of the trail at the Arabba Tourist Office, the local hotels, or the arrival point of the Campolongo Chairlift and set off to discover the adventurous life of Bec and her bear friends!
The start of the trail is just a few meters from the arrival of the Campolongo chairlift, near the Refuge…
Follow the trail, and discover all the curiosities about the life of little Bec and his family using the punches you will find hanging from the bears along the way. If you have found all the bears, drop by the Bec de Roces hut and hand in your card: a nice prize awaits you!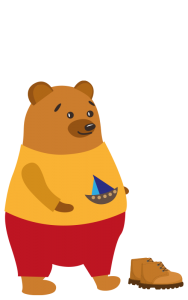 BABY BEAR: THE PATH OF THE 3 SENSES
When a baby bear is born, Mama Bear takes it into the wild to let it explore and get to know its natural environment.
He has to learn early on how to use his senses well in order to survive best in nature. Our BabyBec often trains and entertains himself in the 3 senses pools. If you want to do as he does, take off your shoes and walk barefoot along the sensory path – suitable for the whole family – in front of the hut.
It consists of 8 pools containing elements found in the surroundings: sand, pebbles, bark, water, twigs, and pine cones.
Have fun discovering new sensations under your feet, staying balanced, and moving freely over different terrain – it will be a wonderful adventure!
And for the grand finale, you will finish the trail in the cool, regenerating waters of the new small lake!
Funivie Arabba
The Place to Ski Rifugio Bec de Roces
Livinallongo del Col di Lana
32020 BL
Coordinate:
46.512835, 11.864775
Tel. +39 0436 79 193 (rifugio)
Tel. +39 0436 79 336 (ufficio)
Mail: info@becderoces.it
P.IVA 00169330255
Rifugio Bec de Roces
Livinallongo del Col di Lana
32020 BL
Coordinate:
46.512835, 11.864775
Tel. +39 0436 79 336
Tel. +39 0436 79 193
Mail: info@becderoces.it
P.IVA 00081280257